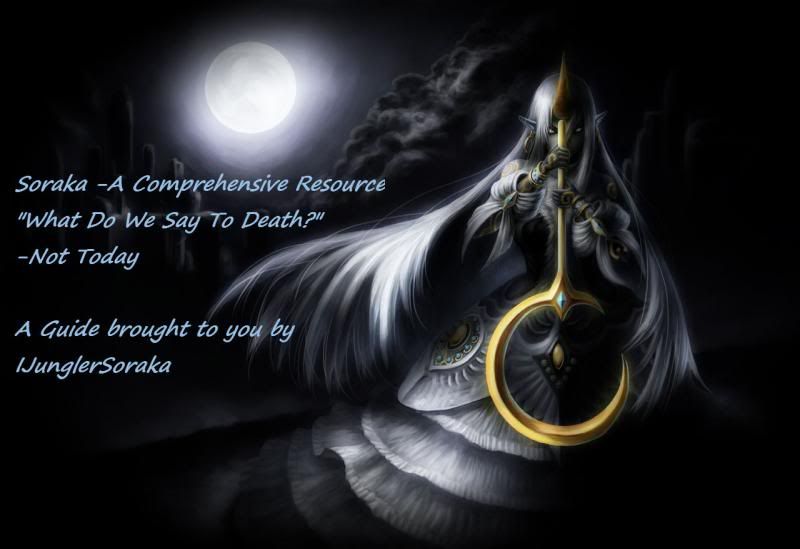 Hi i'm Coxy
Soraka was my go-to support when i'm last in the solo-quo, or playing with a team mate that I feel can do other roles better. I currently have near 1000 games with her under my belt, and i'd like to share with the community what I have learned.
With current pre-season changes to her Soraka is currently as a pure support.. grossly underwhelming. I'm experimenting with different builds, runes, and masteries to see if I can find another way to play her.
During season 2 I was ranked 39th with her in the global community with the second most games with her after Nhat Nyugen.
During season 3 I was ranked 59th with her in the global community. (Though I didn't play quite as often as in Season 2, silly College.)

In this guide, I will break down runes, masteries, abilities, and eventually roles in multiple locations throughout the guide to give the viewer all the resources needed.
Soraka
============================================================================
* Soraka is a support champion whose primary function is healer, buffer, and debuffer. She's one of the original champions from the release of League of Legends. Following the Valentines Day Massacre of 2012 Soraka fell out of popular favor as Morello nerfed all 4 of her abilities.
In this Guide you will find
*Runes
*Masteries
*Abilities
*Summoner Spells
*Laning Phases
*Item Builds
*General Tips and Tricks